loaded grilled chicken tacos
2 Pound boneless, skinless chicken breast

2 Tablespoon olive oil

2 Teaspoon chili powder

1 Teaspoon smoked paprika

1/2 Teaspoon ground cumin

1/4 Teaspoon ground cayenne pepper

1 1/2 Teaspoon kosher salt

1 Teaspoon freshly cracked black pepper

1 1/2 Pound plum tomatoes, diced

1 Medium red onion, diced

1/2 Cup cilantro, chopped

1 lime, juiced

kosher salt

2 Whole avocados

1 Tablespoon fresh squeezed lime juice

1/4 Cup finely diced red onion

2 Tablespoon finely chopped cilantro leaves

kosher salt

1/2 Cup sour cream

1 Teaspoon chili powder

1 Tablespoon fresh squeezed lime juice

Pinch kosher salt

12 flour tortillas

1 lime, cut into wedges

1 jalapeno, sliced into rings

Handful fresh cilantro

hot sauce
Steps
1
For the Marinade: Combine the chicken breasts, olive oil, spices, zest, salt, and pepper in freezer bag and give everything a good mix. Chill in the fridge for at least 4 hours (overnight is best).
2
When ready to cook, set temperature to 450℉ and preheat, lid closed for 15 minutes.
3
Place the chicken breasts on the hot grill and cook, lid closed, for 25 to 30 minutes, until crispy, golden, and the chicken reaches an internal temperature of 165℉.
4
While the chicken is on the grill, prepare the pico, guacamole, and spiked sour cream.
5
For the Pico: Combine the diced tomatoes, red onion, cilantro and juice of 1 lime in a small bowl and mix well. Season to taste and set aside.
6
For the Guacamole: Peel and carefully remove the pit from the avocados. Smash the avocado in a bowl with the lime juice until smooth, leaving a few chunks for texture. Next add the red onion, cilantro and give everything a good mix. Season to taste.
7
For the Spiked Sour Cream: Combine all the spiked sour cream ingredients in a small bowl and mix well.
8
Remove the grilled chicken from the grill and let rest for 5 minutes before slicing into thin strips.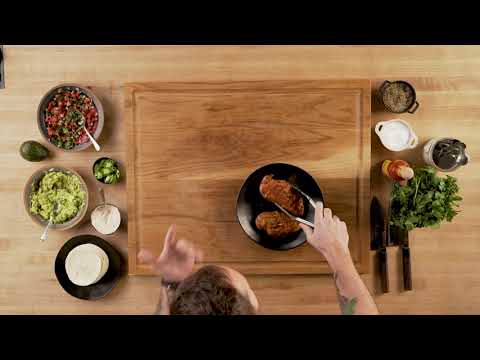 9
Divide the sliced grilled chicken on warm tortillas, then hit each with fresh pico, guacamole, and a dollop of spiked-sour cream. Top each taco with sliced jalapeño and fresh cilantro, and serve with lime wedges and hot sauce. Enjoy!