reverse seared rib-eye steaks
2 (1-1/2 inch thick) rib-eye steaks

Meat Church Holy Cow BBQ Rub

Meat Church Gourmet Garlic and Herb Seasoning

butter, preferably high-quality
Steps
1
When ready to cook, set Z Grill temperature to 225°F and preheat, lid closed for 15 minutes. For optimal flavor, use Pellet Tube if available.
2
Season both sides of steak with Meat Church Holy Cow BBQ Rub, and Meat Church Garlic and Herb Seasoning. Place steaks on grill and cook for 30 to 45 minutes or until an instant read thermometer inserted in the thickest part of the meat reads 120°F for medium-rare.
3
Remove steaks from grill and increase grill temperature to 500°F. Allow steaks to rest while grill preheats.
4
Place steaks back on grill and sear on both sides for 3 minutes.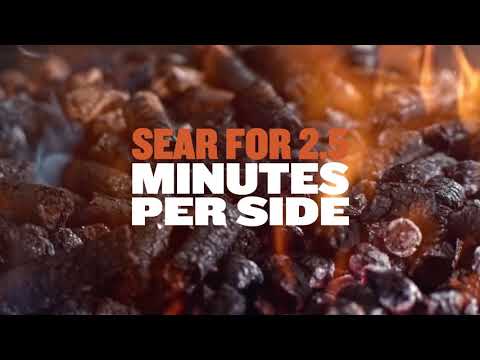 5
Remove from grill, top with butter and lightly tent with foil to allow the butter to melt and the steaks to rest before slicing, about 5 minutes. Enjoy!