salted caramel apple cheesecake galette
1 (21 oz) can apple pie filling

1/2 Teaspoon ground cinnamon

8 Ounce cream cheese

1/3 Cup granulated sugar

1 Large egg

2 Tablespoon cornstarch

2 Tablespoon heavy cream

1/2 Teaspoon vanilla extract

1 frozen pie crust, thawed

2 Teaspoon all-purpose flour

As Needed heavy cream

2 Tablespoon turbinado sugar

1/2 Cup salted caramel sauce, divided

ice cream, for serving

1/2 Teaspoon coarse sea salt
Steps
1
When ready to cook, set the temperature to 350°F and preheat, lid closed for 15 minutes.
2
Toss the apple filling with cinnamon in a medium bowl and set aside.
3
Using a mixer, whip the cream cheese and the sugar until fluffy. Add the egg, cornstarch, whipping cream and vanilla and continue to beat until smooth.
4
Roll out the pastry dough on a floured piece of parchment paper until it is a flat circle.
5
Using a spatula, spread the cream cheese filling on the pie leaving a 2-inch (5.08cm) space around the perimeter. Spread the apples and cinnamon on top of the cream cheese.
6
Fold over the edge of the crust all around the pie. Brush the pie edge with heavy cream and sprinkle with turbinado sugar. Drizzle 1/4 cup (60ml) of the salted caramel over the top.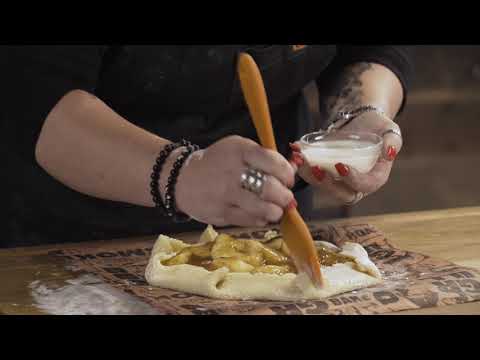 7
Place the Galette on the grill, leaving the pie on the parchment paper. Bake for 30 minutes then check the crust for doneness. If not golden, continue to bake on the grill another 10 minutes or until the apples are bubbling and the crust is nicely browned.
8
Remove from the grill and cool slightly. Drizzle with remaining caramel and sprinkle with additional sea salt if desired. Serve with ice cream. Enjoy!