vodka brined smoked wild salmon
1 Cup brown sugar

1 Tablespoon black pepper

1/2 Cup coarse salt

1 Cup vodka

1 (1-1/2 to 2 lb) wild caught salmon

1 lemon wedges

capers
Steps
Watch Video
Vodka Brined Smoked Salmon with Amanda Haas
1
In a small bowl, whisk together brown sugar, pepper, salt and vodka.
2
Place the salmon in a large resealable bag. Pour in marinade and massage into the salmon. Refrigerate for 2 to 4 hours.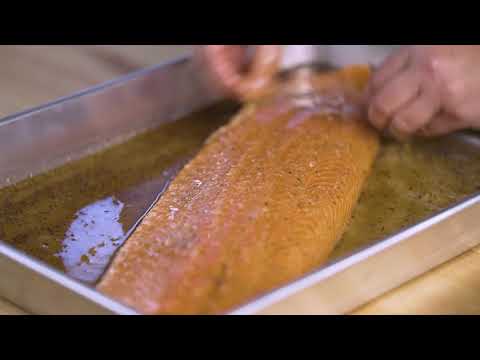 3
Remove from bag, rinse and dry with paper towels.
4
When ready to cook, set Z Grill temperature to 180℉ and preheat, lid closed for 15 minutes. For optimal flavor, use Pellet Tube if available.
5
Smoke the salmon, skin-side down for 30 minutes.
6
Increase grill temperature to 225℉ and continue to cook salmon for an additional 45 to 60 minutes or until the internal temperature in the thickest part of the fish reaches 140℉ or the fish flakes easily when pressed with a finger or fork.
7
Serve with lemons and capers. Enjoy!